Saturday April 4, 2015
RICKY BYRD (of JOAN JETT & THE BLACKHEARTS 2015 Rock & Roll Hall of Fame ! ) / LUCINDA & MICHAEL
DOORS- 7:30 PM Tickets: $12. Advance - Tickets are also available Now at The Record Collector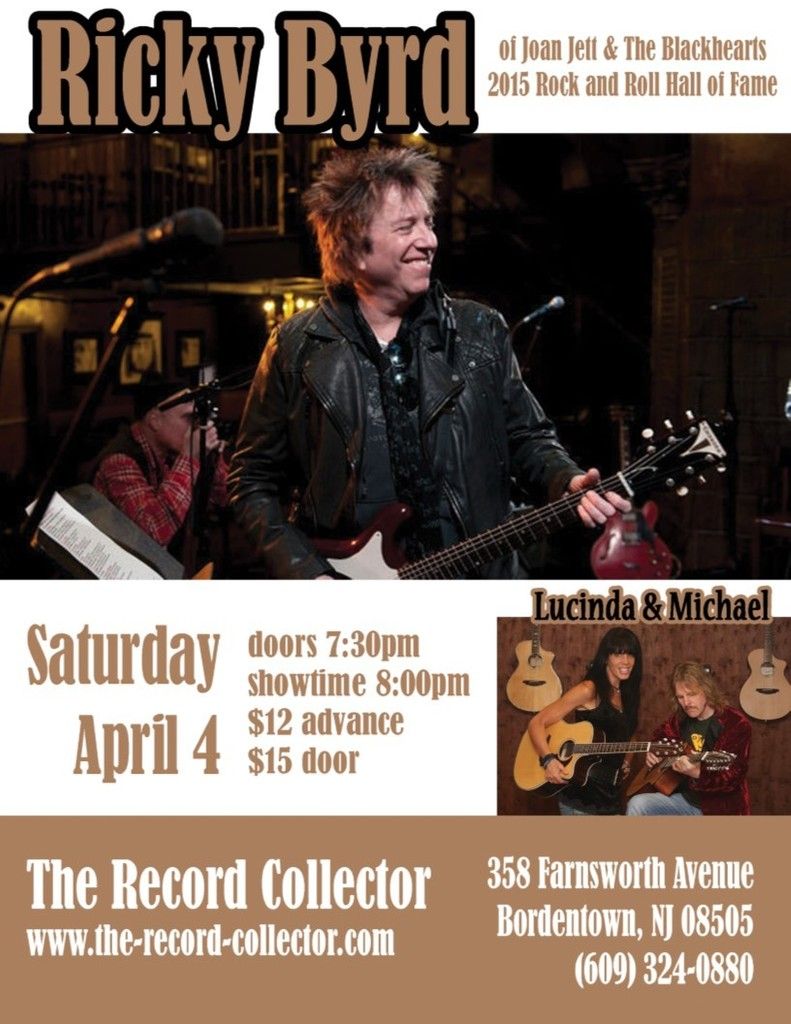 Ricky Byrd's Official Web Page

Lucinda & Michael's Official Web Page
ALL AGES SHOW
2015 ROCK & ROLL HALL OF FAME - JOAN JETT & THE BLACKHEARTS ! Lead guitarist for Joan Jett and The Blackhearts, Ricky Byrd just inducted to the Hall of Fame....we're so happy to have Ricky back again!

To open this show we have Lucinda & Michael. Rock, Pop, Country, Singer-Songwriter.

Lucinda has shared the stage with Pat Benetar, Eddie Money, The Guess Who, Stevie Nicks, Sophie B. Hawkins and many more. This is going to be a great night!
ALL UPCOMING SHOWS LISTED BELOW:
When tickets are purchased online or over the phone, ALL TICKETS ARE HELD HERE at The Record Collector.
You pick them up at the door the night of the show.
We look forward to you being here!! Tickets are available NOW at The Record Collector! Sales tax is added to the price of all tickets. You can also purchase tickets online using your Paypal Account or Credit Card (There is a $3.00 Handling charge added if you use Paypal or your credit card per ticket). You can also call us at (609) 324-0880 to purchase your tickets. (No checks accepted).
Friday March 27, 2015 - 7:30 PM Doors - MULEBONE / LORRAINE LECKIE TRIO w/ HUGH POOL - $12. Advance / $15. Door
Friday April 3, 2015 - 7:30 PM Doors - RAYMOND THE AMISH COMIC - $15. Advance / $20. Door
Saturday April 4, 2015 - 7:30 PM Doors - RICKY BYRD (of JOAN JETT & THE BLACKHEARTS 2015 Rock & Roll Hall of Fame ! ) / LUCINDA & MICHAEL - $12. Advance / $15. Door
Friday April 10, 2015 - 7:30 PM Doors - THE GRIP WEEDS (2 Sets) - CD/LP Release Party How I Won The War - $12. Advance / $15. Door
Saturday April 11, 2015 - 7:30 PM Doors - BRUCE KATZ BAND - $18. Advance / $22. Door
Friday April 17, 2015 - 7:30 PM Doors - ELIOT LEWIS - CD Release Party / NALANI and SARINA - $15. Advance / $20. Door
Saturday April 18, 2015 - 10:00 AM Doors - RECORD STORE DAY - Starting at 12:00 Noon - Free In Store Concert w/ ANKER / PAPER JETS/ SUCCESSFUL FAILURES
Friday April 24, 2015 - 7:30 PM Doors - SORAIA - $12. Advance / $15. Door
Saturday April 25, 2015 - 7:30 PM Doors - THE DOUGHBOYS CD Release Party - $12. Advance / $15. Door
Saturday May 2, 2015 - 7:30 PM Doors - VERMILION - 12. Advance / 15. Door
Friday May 8, 2015 - 7:30 PM Doors - JACK GRACE BAND - CD Release party / BUFFALO STACK - 12. Advance / 15. Door
Saturday May 9, 2015 - 7:30 PM Doors - BILL KIRCHEN BAND - 25. Advance / 30. Door
Friday May 29, 2015 - 7:30 PM Doors - REACH AROUND RODEO CLOWNS / CRASH GORDON & DEBRA DYNAMITE - $12. Advance / $15. Door
Saturday May 30, 2015 - 7:30 PM Doors - SPANKING CHARLENE / SAD BASTARDS - $12. Advance / $15. Door
Friday June 5, 2015 - 7:30 PM Doors - SNL's CHRISTINE OHLMAN & THE REBEL MONTEZ ( 2 Sets ) - $20. Advance / $24. Door
Friday June 12, 2015 - 7:30 PM Doors - HYMN FOR HER / APRIL MAE & THE JUNE BUGS - $15. Advance / $18. Door
Saturday June 13 - 7:30 PM Doords - VINNY MARTELL & HIS BAND OF BROTHERS - $15. Advance / $20. Door
Saturday June 19, 2015 - 7:30 PM Doors - THE CRYERS - CD Release Party - $12. Advance / $15. Door
Saturday September 19, 2015 - 7:30 PM Doors - JOHN FORD COLEY w / THE CRYERS - $18. Advance / $22. Door
For more info on our shows, call us at (609) 324-0880
We are looking for entertainers for in store events.
If you are interested, please contact Sue or John by EMAIL
NO BAND BOOKINGS BY PHONE PLEASE
If you opened this page from a search engine:
Visit The-Record-Collector.com main page