Friday August 28, 2015
HILARY SCOTT BAND / QUIMBY MOUNTAIN BAND
DOORS- 7:30 PM Tickets: $12. Advance - Tickets are also available Now at The Record Collector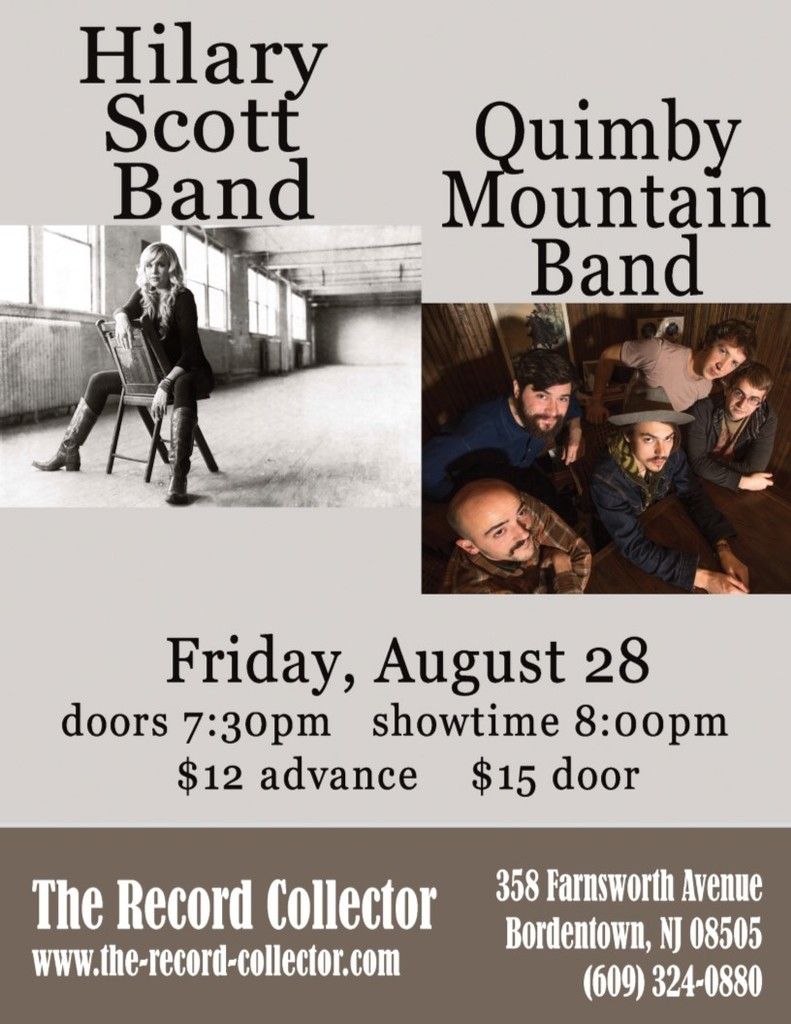 ALL AGES SHOW
Hilary Scott Band's Official Web Page
Quimby Mountain Band's Official Web Page
Hilary Scott is a multiple award-winning singer-songwriter who brings her unique brand of melodic and lyrically memorable songs to audiences nationally and internationally. Euro Ferrari, renowned for his work in all genres and with famous artists (Clapton, Sting, Pavarotti) all over the world, when speaking of Hilary Scott and her music said: "…Hilary Scott writes and sings in a way that creates a fascinating and intimate world, and it is enough for her to utilize only a whisper to raise deep emotions in the listener, her voice is absolutely extraordinary in its emotional greatness… it would be difficult for her pop/country style not to enter deep into the heart, in every way."

Known for their incredible live performances, Quimby Mountain Band is quickly
reaching new heights as they have opened up for several major acts in the last few
months. With the release of their newest CD, Quimby Mountain Band III, the band is
looking to expand their horizons bigtime in 2014. This on the heels of their second CD,
"Move On", which gained national attention as two of the songs on the disc received
solid air time on the Sirius XM Jam Station.
Whether playing in the Northwest part of New Jersey or at venues throughout the
Northeast, Quimby Mountain Band continues to garner tons of attention and new fans.
High Times Magazine named them one of the Best Unsigned Bands of 2013.

ALL UPCOMING SHOWS LISTED BELOW:
When tickets are purchased online or over the phone, ALL TICKETS ARE HELD HERE at The Record Collector.
You pick them up at the door the night of the show.
We look forward to you being here!! Tickets are available NOW at The Record Collector! Sales tax is added to the price of all tickets. You can also purchase tickets online using your Paypal Account or Credit Card (There is a $3.00 Handling charge added if you use Paypal or your credit card per ticket). You can also call us at (609) 324-0880 to purchase your tickets. (No checks accepted).
Friday August 28, 2015 - 7:30 PM Doors - HILARY SCOTT BAND / QUIMBY MOUNTAIN BAND - $12. Advance / $15. Door
Friday September 11, 2015 - 7:30 PM Doors - THE MUGGS - $12. Advance / $15. Door
Saturday September 12, 2015 - 7:30 PM Doors - SCOTT SHARRARD BAND (of GREGG ALLMAN'S BAND) - $15. Advance / $20. Door
Friday September 18, 2015 - 7:30 PM Doors - COMMANDER CODY BAND - $28. Advance / $32. Door
Saturday September 19, 2015 - 7:30 PM Doors - JOHN FORD COLEY (of England Dan & John Ford Coley) w / THE CRYERS - $18. Advance / $22. Door
Sunday September 20, 2015 - 7:30 PM Doors - JACK SEMPLE BAND - $15. Advance / $18. Door
Friday September 25, 2015 - 7:30 PM Doors - POPA CHUBBY "I'm Feeling Lucky Tour"- $20. Advance / $25. Door
Saturday September 26, 2015 - 7:30 PM Doors - RICKY BYRD ( Rock & Roll Hall of Fame ) - $12. Advance / $15. Door
Sunday September 27, 2015 - 7:30 PM Doors - WISHBONE ASH - $35. Advance / $40. Door
Friday October 2, 2015 - 7:30 PM Doors - DE TIERRA CALIENTE BAND ( Latin Music ) - $12. Advance / $15. Door
Saturday October 10, 2015 - 7:30 PM Doors - MICHAEL GALLANT TRIO - $12. Advance / $15. Door
Sunday October 25, 2015 - 7:30 PM Doors - KINKY FRIEDMAN - "The Loneliest Man I Ever Met Tour" - $30. Advance / $35. Door
Saturday November 28, 2015 - 7:30 PM Doors - RICHARD X. HEYMAN & THE OWLS / SORAIA - Lp Release Party - $12. Advance / $15. Door
Saturday December 19, 2015 - 7:30 PM Doors - THE CRYERS Christmas Show - $12. Advance / $15. Door
Saturday December 26, 2015 - 7:30 PM Doors - Annual Return of UNCLE FLOYD (Comedy) - 18. Advance / $22. Door
For more info on our shows, call us at (609) 324-0880
We are looking for entertainers for in store events.
If you are interested, please contact Sue or John by EMAIL
NO BAND BOOKINGS BY PHONE PLEASE
If you opened this page from a search engine:
Visit The-Record-Collector.com main page