Saturday May 30, 2015
SPANKING CHARLENE / SAD BASTARDS OF BROOKLYN
DOORS- 7:30 PM Tickets: $12. Advance - Tickets are also available Now at The Record Collector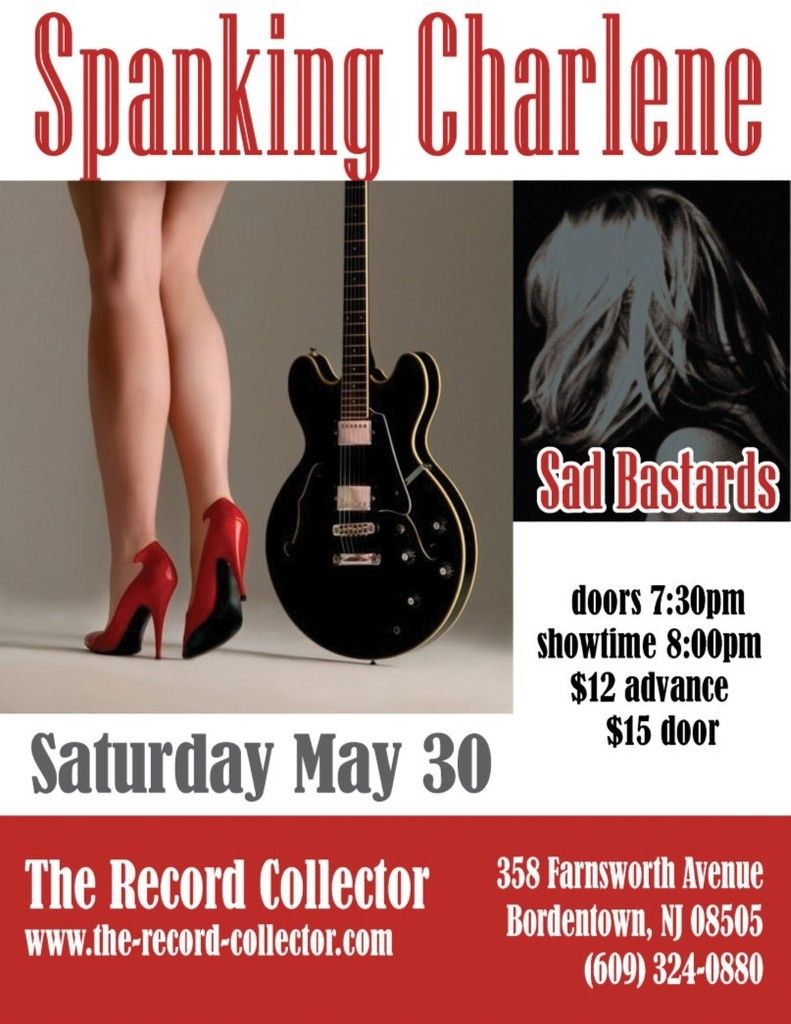 ALL AGES SHOW
Spanking Charlene's Official Web Page
WHAT THEY'RE SAYING ABOUT SPANKING CHARLENE:


"SPANKING CHARLENE are one of our favorite local working class New York bands.


They're great...constantly getting better." –Steven Van Zandt


* * * * *


"I love doing a radio show where I get to play brand new exciting rock n' roll bands like


SPANKING CHARLENE." - Drew Carey, comedian, game show host, Underground Garage DJ


* * * * *


"Sexy, direct, powerful rock and roll.


There is no mistaking the specific intent of SPANKING CHARLENE!"


–Eric "Roscoe" Ambel, producer, guitarist


SAD BASTARDS - By opting for sincerity over irony and pathos over snarkiness, the team of Charlene McPherson and Mo Goldner have given us a slice of the Brooklyn they used to live in. A place that can kick your ass and demoralize you, but which can steel your resolve.
By day, these two get their songwriting ya-ya's out with Spanking Charlene, the garage-rock band they've fronted. But for this special project, they've harvested the sad ol' songs of their favorite scribes, ranging from Bob Dylan and Alex Chilton to Elton John and Johnny Thunders.
ALL UPCOMING SHOWS LISTED BELOW:
When tickets are purchased online or over the phone, ALL TICKETS ARE HELD HERE at The Record Collector.
You pick them up at the door the night of the show.
We look forward to you being here!! Tickets are available NOW at The Record Collector! Sales tax is added to the price of all tickets. You can also purchase tickets online using your Paypal Account or Credit Card (There is a $3.00 Handling charge added if you use Paypal or your credit card per ticket). You can also call us at (609) 324-0880 to purchase your tickets. (No checks accepted).
Friday May 22, 2015 - 7:30 PM Doors - BEX MARSHALL BAND - $15. Advance / $20. Door
Friday May 29, 2015 - 7:30 PM Doors - REACH AROUND RODEO CLOWNS / CRASH GORDON & DEBRA DYNAMITE - $12. Advance / $15. Door
Saturday May 30, 2015 - 7:30 PM Doors - SPANKING CHARLENE / SAD BASTARDS - $12. Advance / $15. Door
Friday June 5, 2015 - 7:30 PM Doors - SNL's - CHRISTINE OHLMAN & THE REBEL MONTEZ ( 2 Sets ) - $20. Advance / $24. Door
Friday June 12, 2015 - 7:30 PM Doors - HYMN FOR HER / APRIL MAE & THE JUNE BUGS - $15. Advance / $18. Door
Saturday June 13 - 7:30 PM Doords - VINNY MARTELL (of Vanilla Fudge ) & HIS BAND OF BROTHERS - $15. Advance / $20. Door
Saturday June 19, 2015 - 7:30 PM Doors - THE CRYERS - CD Release Party - $12. Advance / $15. Door
Thursday July 2, 2015 - 7:30 PM Doors - RUNAWAY DOROTHY / DANIELLE STEWARD - $12. Advance / $15. Door
Friday August 28, 2015 - 7:30 PM Doors - HILARY SCOTT BAND / QUIMBY MOUNTAIN BAND - $12. Advance / $15. Door
Saturday September 12, 2015 - 7:30 PM Doors - SCOTT SHARRARD BAND (of GREGG ALLMAN'S BAND) - $15. Advance / $20. Door
Saturday September 19, 2015 - 7:30 PM Doors - JOHN FORD COLEY (of England Dan & John Ford Coley) w / THE CRYERS - $18. Advance / $22. Door
Saturday October 10, 2015 - 7:30 PM Doors - MICHAEL GALLANT TRIO - $12. Advance / $15. Door
For more info on our shows, call us at (609) 324-0880
We are looking for entertainers for in store events.
If you are interested, please contact Sue or John by EMAIL
NO BAND BOOKINGS BY PHONE PLEASE
If you opened this page from a search engine:
Visit The-Record-Collector.com main page