Friday December 27, 2013
DOORS- 7:30 PM Tickets: $ 15.00 Advance - Tickets are also available Now at The Record Collector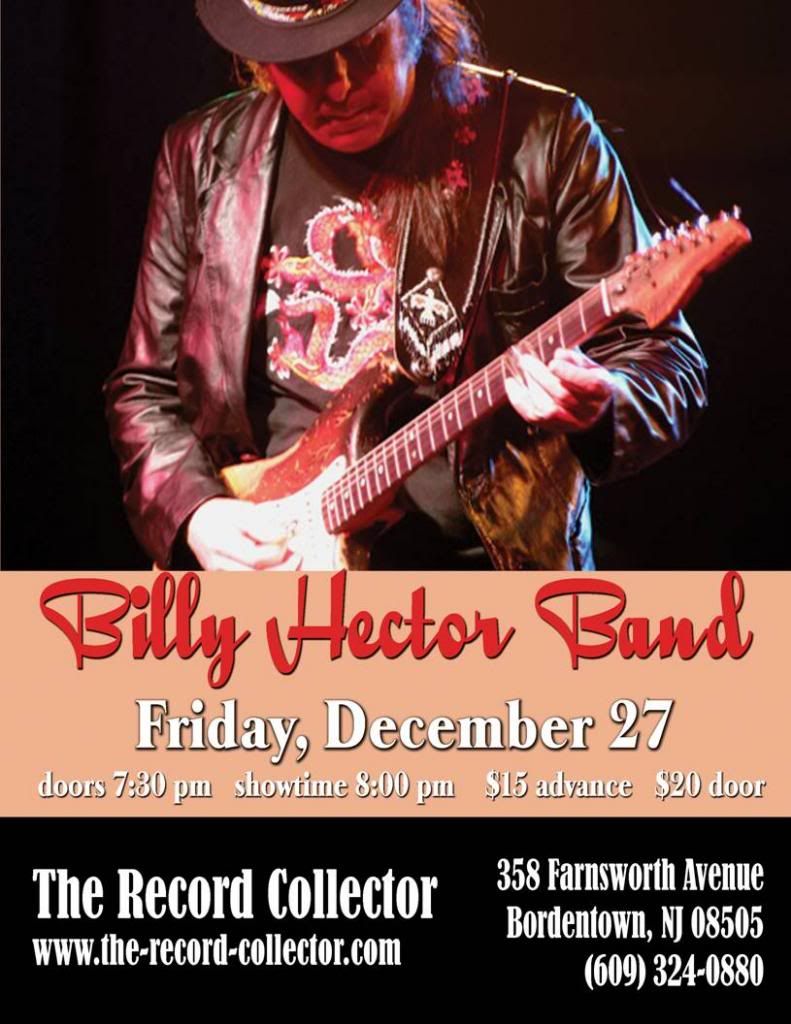 ALL AGES SHOW
Billy Hector Band Official Web Page
Winner of the Asbury Park Music Awards "Best Guitarist", "Best Blues Band" and "Living Legend" awards.

Two-time winner of the East Coast Rocker's "Best Guitarist" award.

Two-time invitee to the Rock & Roll Hall of Fame's American Music Masters Series celebrating the music of Robert Johnson and Muddy Waters with Charlie Musselwhite, Bonnie Raitt, Jimmy Vaughn, Vernon Reid, Dave Alvin, Sonny Landreth, Double Trouble and others.

Touring guitarist with Hubert Sumlin.

Winner of the Jersey Shore Jazz & Blues Foundation's "Lifetime Achievement" award.
Touring guitarist with Joe Louis Walker.

Whether Billy Hector is teasing you with his sultry slidework, picking through delta blues or flat-out cranking it up and crunching out the electric blues/rock on his beloved vintage Fender Stratocaster, his music reflects the true soul and origins of the blues; always passionate, engaging and dedicated to making the audience move and sweat. Having honed his chops and style through three decades of performances, Hector is critically recognized as one of the hottest and most interesting guitarist/songwriters on the original circuit and has even been called "A New Jersey state treasure" by music writers.
ALL UPCOMING SHOWS LISTED BELOW:

When tickets are purchased online or over the phone, ALL TICKETS ARE HELD HERE at The Record Collector.
You pick them up at the door the night of the show.

We look forward to you being here!! Tickets are available NOW at The Record Collector! Sales tax is added to the price of all tickets. You can also purchase tickets online using your Paypal Account or Credit Card (There is a $3.00 Handling charge added if you use Paypal or your credit card per ticket). You can also call us at (609) 324-0880 to purchase your tickets. (No checks accepted).

Friday December 13, 2013 - 7:30 PM - THE TRAPPS BAND / CHARLES LAURITA & THE MISCHIEF - $ 12. Advance / $ 15. Door

Saturday December 14, 2013 - 7:30 PM - JOHN FORD BAND of THE STRAWBS / CHUCK SCHAEFFER & FULL MOON HOWLIN The Record Collector Annual Christmas Party - $ 15. Advance / $ 20. Door

Friday December 20, 2013 - 7:30 PM - PROFESSOR LOUIE & THE CROWMATIX- $ 12. Advance / $ 15. Door

Saturday December 21, 2013 - 7:30 PM - THE CRYERS CD Release Party / LIZ KLAMMER - $ 12. Advance / $ 15. Door

Thursday December 26, 2013 - 7:30 PM - UNCLE FLOYD - $ 17. Advance / $ 20. Door

Friday December 27, 2013 - 7:30 PM - BILLY HECTOR BAND - $ 15. Advance / $ 20. Door

Saturday January 11, 2014 - 7:30 PM - JULES SHEAR w / PAL SHAZAR - $ 15. Advance / 20. Door

Saturday January 18, 2014 - 7:30 PM - JET WESTON & His ATOMIC RANCH HANDS - $ 12. Advance / 15. Door

Saturday January 25, 2014 - 7:30 PM - FRANK COOK QUINTET ( RICHIE COLE'S Rhythm Section) featuring VINCE LARDEAR - $ 12. Advance / 15. Door

Saturday February 1, 2014 - 7:30 PM - CHARLENE McPHERSON of SPANKING CHARLENE Headlines SAD BASTARDS OF BROOKLYN - CD RELEASE PARTY- $ 12. Advance / 15. Door

Saturday March 8, 2014 - 7:30 PM - THIRD OF NEVER featuring Kurt & Rick Reil of The Grip Weeds (- $12. Advance / $15. Door

Friday March 14, 2014 - 7:30 PM - ELIOT LEWIS of DARYL HALL & JOHN OATES / MUTLU - $15. Advance / $20. Door

Saturday March 22, 2014 - 7:30 PM - ALEXIS P. SUTER BAND - $20. Advance / $23. Door

Friday April 4, 2014 - 7:30 PM - COMMANDER CODY BAND - $25. Advance / $30. Door

Saturday April 5, 2014 - 7:30 PM - JOE ZOOK & FRANK PINTO - $12. Advance / $15. Door

For more info on our shows, call us at (609) 324-0880

We are looking for entertainers for special in store events.
If you are interested, please contact Sue or John by EMAIL

NO BAND BOOKINGS BY PHONE PLEASE

If you opened this page from a search engine:
Visit The-Record-Collector.com main page

The Record Collector in Bordentown, NJ! "Voted # 1 as the favorite independent record store in the tri-state area; Details Magazine.Also received honorary mention in Spin Magazine online. The only New Jersey record store mentioned.
We service Princeton, Trenton, Burlington, North, Central & South New Jersey, Philadelphia, New YorkCity & State to buy, sell, or exchange
vinyl records, CDs, memorabilia, DVDs, and more for over 25 years!
We are customer oriented, and you will always feel at home at The Record Collector.
Easy commute from Pennsylvania, New Jersey, New York, and Delaware.
No car? Use public transportation! Take the River Line Train or NJ Transit bus line.
*We reimburse students travel cost on any purchase of $25 or more. Including Princeton, Rider, Lawrence and Trenton students. See details!*