Saturday November 29, 2014
RECORD COLLECTOR 2nd ANNUAL CIGAR BOX GUITAR FESTIVAL
DOORS- 7:00 PM Tickets: $15.00 Advance - Tickets are also available Now at The Record Collector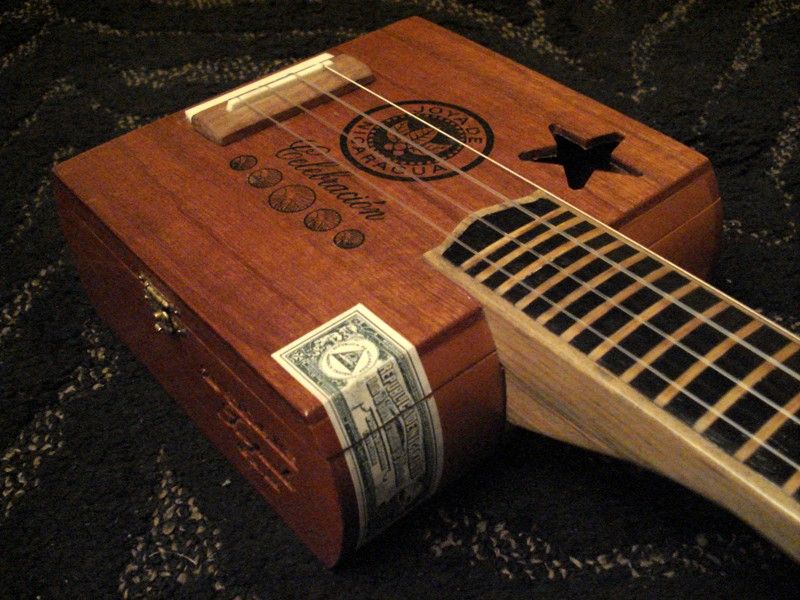 ALL AGES SHOW
We will have 5 fabulous bands performing on this evening: APRIL MAE & THE JUNE BUGS / ONE STRING WILLIE / CIGAR BOX STOMPERS / KILLING AUNT GRACE / DEBRA DYNAMITE & CRASH GORDON.

We will have vendors selling cigar box guitars, music related goodies, jewelry, etc. along with a demo on how to make your own cigar box guitar!
ALL UPCOMING SHOWS LISTED BELOW:
When tickets are purchased online or over the phone, ALL TICKETS ARE HELD HERE at The Record Collector.
You pick them up at the door the night of the show.
We look forward to you being here!! Tickets are available NOW at The Record Collector! Sales tax is added to the price of all tickets. You can also purchase tickets online using your Paypal Account or Credit Card (There is a $3.00 Handling charge added if you use Paypal or your credit card per ticket). You can also call us at (609) 324-0880 to purchase your tickets. (No checks accepted).
Saturday November 1, 2014 - 7:30 PM Doors - JOHN FORD BAND ( of The Strawbs) w/ Special Guest EDWARD ROGERS - $15. Advance / $20. Door
Saturday November 8, 2014 - 7:30 PM Doors - SNL's - CHRISTINE OHLMAN & THE REBEL MONTEZ - $15. Advance / $20. Door
Friday November 14, 2014 - 7:30 PM Doors - SUCCESSFUL FAILURES - CD Release Party- $12. Advance / $15. Door
Saturday November 15, 2014 - 7:30 PM Doors - PETE SEEGER'S LEGACY REMEMBERED Lineup includes - David Brahinsky - guitar and vocals, Guy DeRosa - harmonica, Phil McAuliffe - bass, Noemi Bolton - ukelele, banjolele & vocals, Nalani and Sarina Bolton, vocals - $12. Advance / $15. Door
Friday November 21, 2014 - 7:30 PM Doors - RICHARD X. HEYMAN & THE OWLS - $12. Advance / $15. Door
Saturday November 22, 2014 - 7:30 PM Doors - ALEXIS P. SUTER BAND - CD Release Party / FRANK VIELE BAND - $20. Advance / $25. Door
Saturday November 29, 2014 - 7:00 PM Doors - RECORD COLLECTOR 2nd ANNUAL CIGAR BOX GUITAR FESTIVAL - We will have 5 bands performing on this evening: APRIL MAE & THE JUNE BUGS / ONE STRING WILLIE / CIGAR BOX STOMPERS / KILLING AUNT GRACE / DEBRA DYNAMITE & CRASH GORDON. We will also have vendors selling cigar box guitars, music related goodies, jewelry, etc. along with a demo on how to make your own cigar box guitar! - $15. Advance
Friday December 5, 2014 - 7:30 PM Doors - MULEBONE ( Blues )- $12. Advance / $15. Door
Saturday December 6, 2014 - 7:30 PM Doors - SPANKING CHARLENE / SORAIA - $12. Advance / $15. Door
Friday December 12, 2014 - 7:30 PM Doors - PAUL PLUMERI & JOE ZOOK ( Blues )- $12. Advance / $15. Door
Thursday December 18, 2014 - 7:30 PM Doors - ODESSA KLEZMER BAND - - $12. Advance / $15. Door
Friday December 19, 2014 - 7:30 PM Doors - DENNIS GRUENLING w/ STEVE GUYGER & THE EXCELLOS - $12. Advance / $15. Door
Saturday December 20, 2014 - 7:30 PM Doors - THE CRYERS Christmas Show - $12. Advance / $15. Door
Friday December 26, 2014 - 7:30 PM Doors - UNCLE FLOYD - $18. Advance / $23. Door
Saturday December 27, 2014 - 7:30 PM Doors - BEN VAUGHN QUINTET - $15. Advance / $20. Door
Friday April 3, 2015 - 7:30 PM Doors - COMMANDER CODY BAND - TBA
For more info on our shows, call us at (609) 324-0880
We are looking for entertainers for in store events.
If you are interested, please contact Sue or John by EMAIL
NO BAND BOOKINGS BY PHONE PLEASE
If you opened this page from a search engine:
Visit The-Record-Collector.com main page