Saturday December 5, 2015
SPANKING CHARLENE / SAD BASTARDS of BROOKLYN
DOORS- 7:30 PM Tickets: $12. Advance - Tickets are also available Now at The Record Collector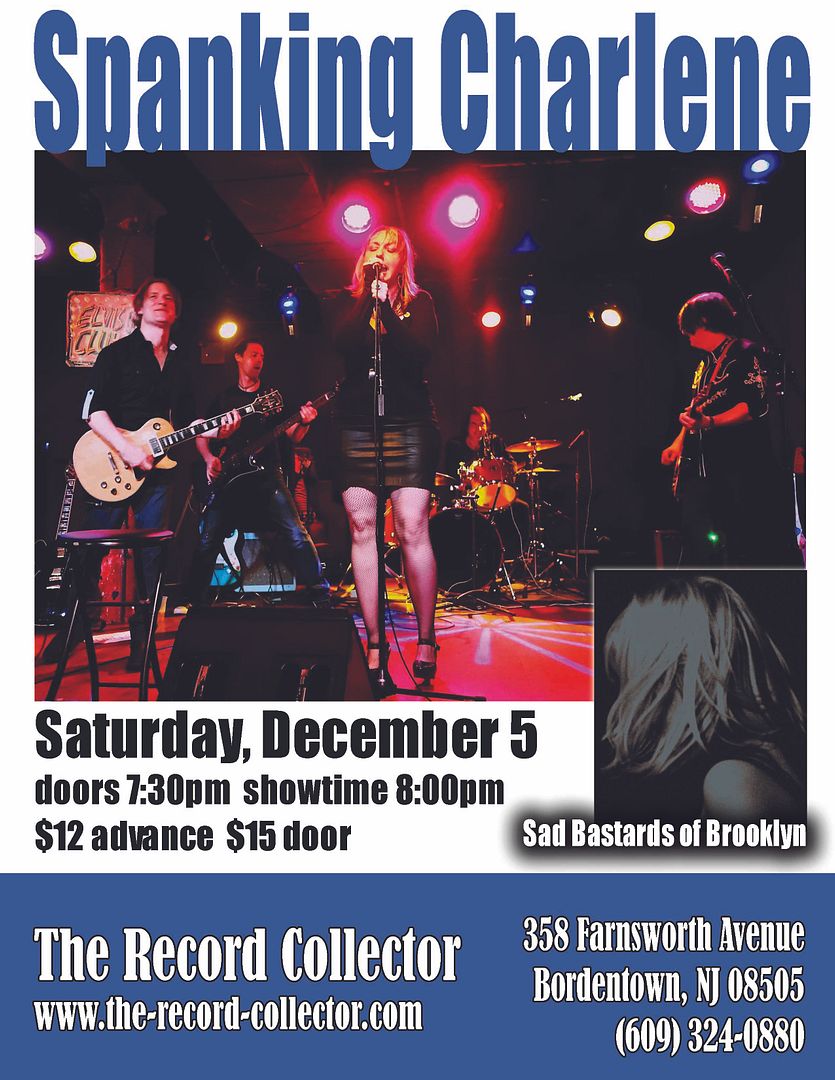 ALL AGES SHOW
Spanking Charlene's Official Web Page
Sad Bastards of Brooklyn's Facebook Page
Spanking Charlene Members :Charlene McPherson, Mo Goldner, Eric Seftel & David Leatherwood. Spanking Charlene's sing about life and romance in New York City. Their sound combines the soaring vocals of Charlene McPherson with the band's hard driving guitar grooves Their latest record is "Where are the Freaks?" and was produced by Eric Ambel.

Spanking Charlene, winners of Little Steven's Underground Garage's "Best Unsigned Band in America" contest are a New York City band whose latest record "Where are the Freaks" (produced by Eric "Roscoe" Ambel) is inspired by NYC nightlife, the quest for the party that never ends, sex, romance, infidelity, gossip, and gentrification in the city where anything can happen at any time. Spanking Charlene's soul-punk sound is a blend of singer Charlene McPherson's dynamic vocals with the bands straight hard driving guitar grooves. Little Steven Van Zandt produced and released two Spanking Charlene singles ("Dismissed with a Kiss" and "Canarsie"), both were featured regularly on Van Zandt's syndicated Underground Garage radio show.

Opening the show we'll have Sad Bastards of Brooklyn, they are an acoustic side project of vocalist Charlene McPherson and guitarist Mo Goldner of the New York City band Spanking Charlene. Sad Bastards of Brooklyn perform cover versions of the saddest songs ever by artists such as Bob Dylan, Neil Young, Patsy Cl...ine, The Replacements, etc.
The project started in 2010 when Spanking Charlene was in the studio working with producer Steven Van Zandt. During breaks in the sessions Charlene and Mo would sit and pass the time by playing quiet ballads. It was in the middle of playing the Sam Cooke song "That's where it's at" that Van Zandt asked if we ever performed that song live. We answered that we did, even though we didn't. We then hatched the idea to take this acoustic thing on the road and Sad Bastards of Brooklyn was born. Our upcoming debut release "Sad Bastards of Brooklyn Volume 1" was recorded live in one two hour session at Cowboy Technical Services in Williamsburg, Brooklyn and was produced by Eric "Roscoe" Ambel.
ALL UPCOMING SHOWS LISTED BELOW:
When tickets are purchased online or over the phone, ALL TICKETS ARE HELD HERE at The Record Collector.
You pick them up at the door the night of the show.
We look forward to you being here!! Tickets are available NOW at The Record Collector! Sales tax is added to the price of all tickets. You can also purchase tickets online using your Paypal Account or Credit Card (There is a $3.00 Handling charge added if you use Paypal or your credit card per ticket). You can also call us at (609) 324-0880 to purchase your tickets. (No checks accepted).
Friday December 4, 2015 - 7:30 PM Doors - A Holiday Hoedown w/ JET WESTON & HIS ATOMIC RANCH HANDS / CRASH GORDON & DEBRA DYNAMITE - $12. Advance / $15. Door
Saturday December 5, 2015 - 7:30 PM Doors - SPANKING CHARLENE / SAD BASTARDS - $12. Advance / $15. Door
Sunday December 6, 2015 - 7:30 PM Doors - ED GOLDBERG & THE ODESSA KLEZMER BAND - $12. Advance / $15. Door
Saturday December 12, 2015 - 7:30 PM Doors - RICHARD X. HEYMAN & THE OWLS - $12. Advance / $15. Door
Saturday December 19, 2015 - 7:30 PM Doors - THE CRYERS Christmas Show w/ Special Guest STEVE HOLLEY ( Drummer From Paul McCartney & Wings & Ian Hunter Band) - $12. Advance / $15. Door
Saturday December 26, 2015 - 7:30 PM Doors - Annual Return of UNCLE FLOYD (Comedy) - 18. Advance / $22. Door
Saturday January 16, 2016 - 7:30 PM Doors - BUMPER JACKSONS - Roots Jazz, Country Swing & Street Blues - Bumper Jacksons on Youtube - 15. Advance / $20. Door
Saturday February 13, 2016 - 7:30 PM Doors - KIM SIMMONDS & SAVOY BROWN "The Devil To Pay" Release Tour - 35. Advance / $40. Door
Saturday March 19, 2016 - 7:30 PM Doors - Evening w/ PAUL PLUMERI & JERRY MONK - 12. Advance / $15. Door
Saturday May 28, 2016 - 7:30 PM Doors - CHRISTINE OHLMAN & THE REBEL MONTEZ - 20. Advance / $25. Door
For more info on our shows, call us at (609) 324-0880
We are looking for entertainers for in store events.
If you are interested, please contact Sue or John by EMAIL
NO BAND BOOKINGS BY PHONE PLEASE
If you opened this page from a search engine:
Visit The-Record-Collector.com main page